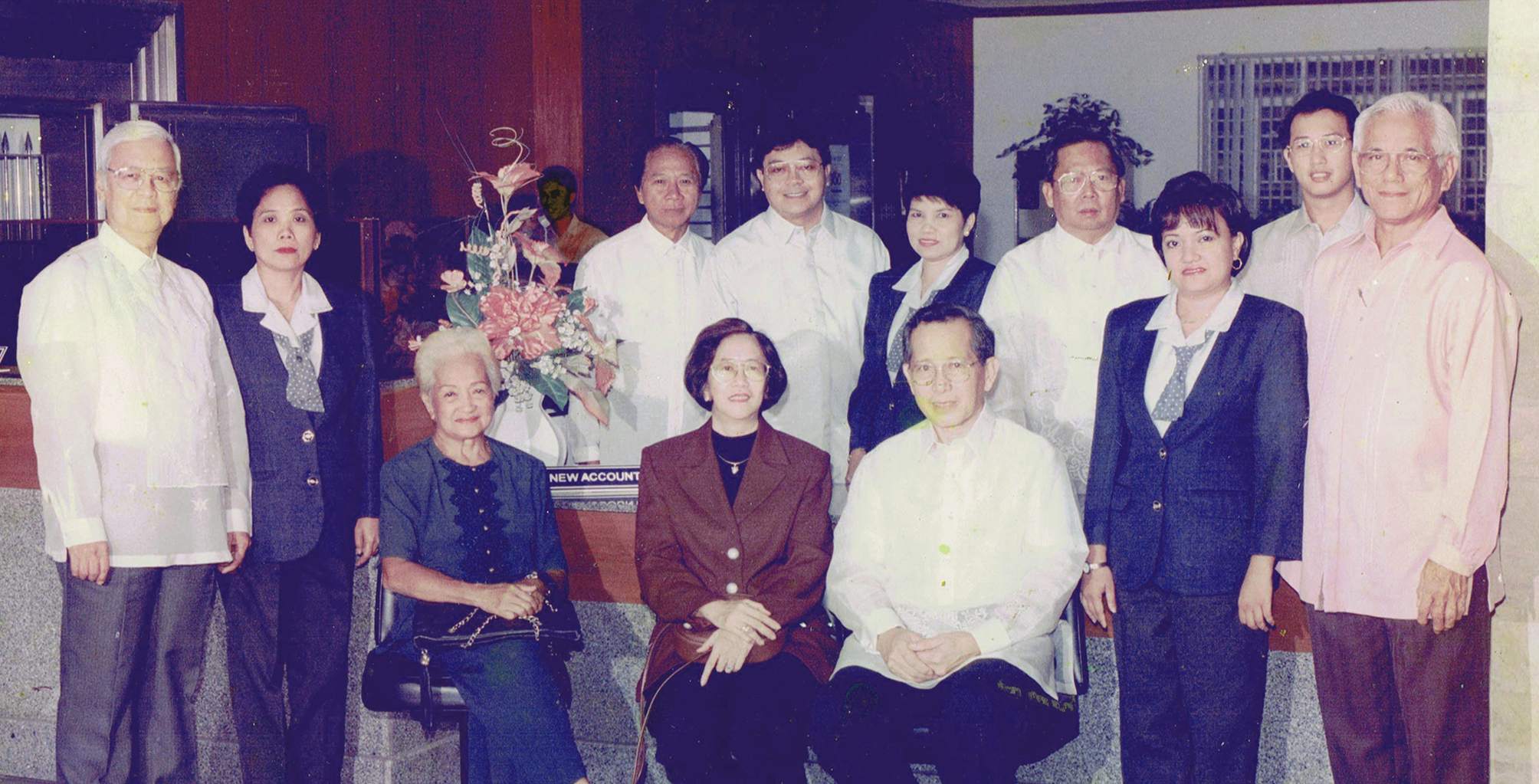 Quezon Capital Rural Bank (QCRB) evolved out of a predicament.  Rural Banking, then void in the provincial capital of Quezon, Lucena City, had to be filled to provide reliable financial services to the community's small farmers, fishermen, traders and other enterprising individuals.  And so, immediately after the 1972 Constitutional Convention, two of the Delegates of the province – CPA/Lawyer Leandro P. Garcia and Banker Gil G. Puyat, Jr., President and Chairman respectively, spearheaded the Bank's incorporation. Atty. Medardo B. Medenilla who facilitated the organizational process, became its Corporate Secretary.
Mrs. Iluminada C. Alcala (wife of then Quezon Governor Anacleto C. Alcala) as Vice President; businessman Remegio C. Bautista as Treasurer; Dr. Sonia I. Garcia (wife of then Judge Efren P. Garcia) and Dr. Emeterio Calayan, Jr., as Board Members, completed QCRB's Charter Board.
On January 29, 1974, QCRB opened its doors to business, with noted commercial lawyer Atty. Jose S. Laureles as its first General Manager.  The Bank was then housed in a rented edifice in the heart of the city's commercial district, at the corner of Merchan and Juarez Streets, Lucena City.  On June 15, 1980, QCRB moved to its present site on its own building at the corner of Perez and C.M. Recto Streets, which is strategically located within the enclave of the Head of the Provincial Government of Quezon.
The Bank is being managed by the present Board headed by Ferdinand Z. Garcia as Chairman, Atty. Edward Leandro Z. Garcia, Jr., as President and CEO, Maria Cristina E. Caraos as Treasurer, Medardo C. Laureles as Executive Vice-President and COO, Director Alexander M. Calma, Director Marissa Antonette G. Relos, Director Richard Leandro Z. Garcia, and the two (2) other Independent Directors namely: Hector Reuben D. Feliciano and Evelyn B. Saculles.
In the new millennium, QCRB upholds its tradition of conservatism with progressiveness because there lies its strength.
Management has focused its efforts in the continuous improvement of its people.  Professionalization of every individual in the organization is top priority, aiming towards customer satisfaction.  Moreover, more stringent policy changes are being adopted.  Loans and investments are carefully scrutinized.  Compliance with Bangko Sentral regulations on financial ratios and reserve requirements are strictly followed.
Today, QCRB has grown into one of the biggest and most stable rural banks in Southern Luzon.  With the strategic spread of our 35 branches.  QCRB is able to bring service with a mission to all of Quezon Province, the neighboring provinces of Laguna, Batangas and Rizal in the fulfillment of its commitment to countryside financial empowerment.